Open Access BPO is leading the drive to maintain business as usual during the COVID-19 pandemic, with flexible, nimble deployment for large customer support and back office teams.
The business process outsourcing (BPO) industry, which covers a range of business activities including customer service, technical support, animation, medical billing, and content moderation, is a central pillar of the Philippine economy. In terms of gross domestic product, the business process outsourcing industry grew from 0.75% in 2000 to roughly 15% in 2019.
Wallstreet Journal Features Open Access BPO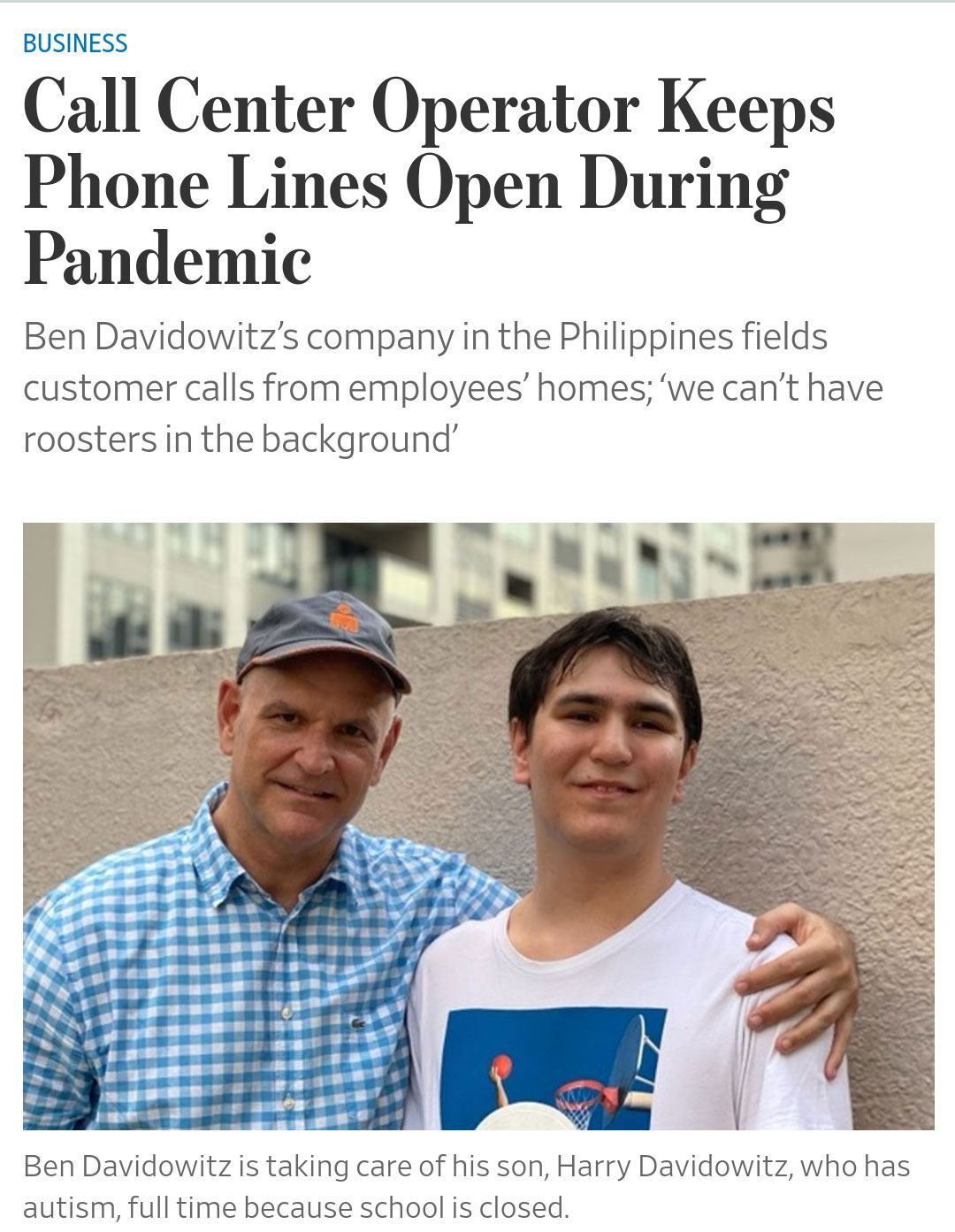 The Wallstreet Journal recently featured Open Access BPO's CEO Ben Davidowitz in an article where he discussed some of the company's measures for adapting and thriving in the new normal.
As the article points out:
"Two of his company's largest call centers are based in the Philippines' capital, Manila, which has been under lockdown since mid-March. While a skeleton crew works in the office, most of his 1,200 employees had to set up makeshift call centers at home.

Many members of Mr. Davidowitz's young workforce live in small apartments without desks or even Internet connections. He dispatched technicians—carrying special passes from the government—to each of the homes where employees needed support. Over many days, the teams set up internet services, hauled work stations and tested the voice quality of calls."
Resilient Operations Ensure Campaigns Run Smoothly
Open Access BPO's service delivery and support quality remain unaffected by the Philippines' government-mandated quarantine. This is due, in part, to the company's familiarity with complex, multi-faceted programs—the core of its outsourcing business.
The chief drivers for Open Access BPO's quick deployment of 1,200 staff to remote locations include:
business continuity across its sites in the Philippines, Taiwan, China, and the United States;
pre-planning for operational contingencies;
hands-on management from top leadership down through team supervisors; and
Rapidly available, custom online learning materials.
Over a thousand employees have opted to work from their homes. Technicians moved to assist remote staff in setting up their home offices, providing broadband access, computers, and other work essentials.
Some volunteered to be part of the skeleton crew who would work from their offices, with precautions such as social distancing enforced and benefits such as free meals and face masks. Some were provided with nearby accommodations and shuttle services to guarantee staff safety.
Delivering Customer Experience Beyond COVID-19
While the post-COVID-19 world is a matter of conjecture, it's certain that businesses that manage for resilience and flexibility will succeed in the final analysis.
As Open Access BPO looks to the future, it's leadership is considering how to leverage multilingual services like customer support and content moderation to continue to deliver quality customer experience.