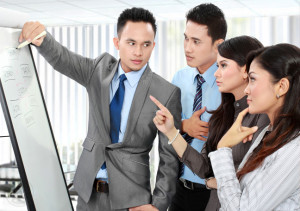 One of the reasons companies bank on Philippine call centers is the Filipinos' widely known cultural affinity with the West. While this is generally true, Filipino employees still have cultural peculiarities and value that company's management teams need to be aware of and understand to optimize their workforce's capability and productivity.
What are the things a call center company should be aware of when managing its local call center agents?
Confrontations
As noted in Kwintessential, Filipinos generally avoid confrontation. It's often difficult for them to say "no" upfront and may resort to vague answers. This is also evident in the workplace.
A company's management should know how to probe its agents, to know whether they have completely understood processes or have any problems that they are stuck on. This also applies when implementing changes, such as shifts in schedule. Agents in Philippine call centers are more likely to open up to fellow Filipinos in the upper management, so foreign superiors should acquire their help to easily learn about any existing issues or concerns.
Formality
It is often noted how Filipinos are one of the most friendly people in the world. The Northern Illinois University observes that this applies to foreigners as well. Filipinos are willing to learn about other cultures, making it easy for foreigners, local and abroad, to work with them.
Though this is a common trait, it is advised that those in the management to avoid going overboard when being friendly with the employees. That is, they should remain approachable but still retain an authority image to preserve respect.
Incentives
Financial incentives are strong motivators to work harder, but they should be given out with caution. Call centers should review the merits of an incentive program and assess possible unintentional consequences. Generally, incentives that promote social interactions work well for Filipino employees. This is why a lot of call center companies in the country reward their employees with pizza parties or team out-of-town trips. Filipinos love to socialize, and companies that promote this often have happier employees.
There are many other differences in managing Philippine call center agents aside from these three. While management of Filipino agents shouldn't be more difficult than that of onshore employees, a company should still be aware of how these differences can affect performance. Those who are newcomers to the scene can benefit from consulting with Filipino leaders as they are the ones who know local employees well.