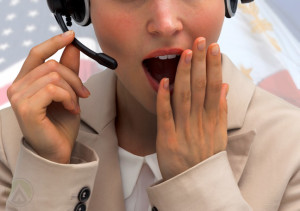 The US government has shut down after the Congress failed to agree on a new budget. Authorities have different takes on its effect on the BPO industry in the Philippines.
How the shutdown happened
According to BBC, the US government shut down its nonessential services after the two houses in Congress failed to agree on the budget for the 2013-2014 fiscal year.
The deadline for budget approval, set on the midnight of September 30, has already passed. The first in 17 years, the shutdown is a result of a political standoff between Republicans, who want to delay the nation's healthcare law as a condition of passing the funding bill, and President Barrack Obama and the Democrats, who refused such demands.
Thereafter, 800,000 federal employees were furloughed for an indefinite period. Monuments and national parks were closed, and so did most operations of agencies including Environmental Protection Agency and NASA. Moody's Analytics economist Brian Kessler estimated that a three- to four-week shutdown could cost the US $55 billion.
How it affects the BPO industry in the Philippines
In an interview with ABS-CBN, IT and Business Processing Association of the Philippines (IBPAP) President Jose Mari Mercado said that the BPO sector may be affected by the shutdown. Mercado said that the call center and IT healthcare sectors may experience reduced volumes of transactions, which could eventually diminish their revenues.
However, he also said that it was too early to make conclusions. He also expressed confidence that the matters can be resolved soon. "It will be fixed in a week's time. They cannot afford to remain shut down for a long time," he said. Mercado also said that the expected surge in call volume in November, as holiday approaches, can cover the impact of the US shutdown. On the other hand, American Chamber of Commerce President Rhicke Jennings has a slightly different sentiment.
In an email interview with The Inquirer, Jennings said that the BPO industry in the Philippines is not likely to be affected. US business will continue to need the services of the BPO industry here in the Philippines as US commerce will continue to operate normally, he said in the email. Despite the ripple effects, The Guardian said there's no need to panic, as investors calculated that this shutdown will be short.
Open Access BPO is a Philippine-based call center company that offers various outsourcing solutions, including non-voice, voice-based, and back office services.