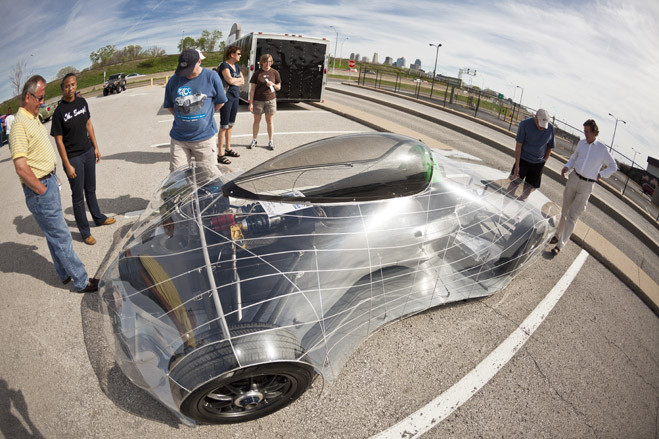 The next time you scoff at your social media notifications and label such as nuisances, think again. You could be throwing away valuable fuel.
Fuel - from social interaction?
Your skepticism is understandable, considering that this is the first time something of this nature was even attempted. Yet such is the case for 30 kids and their counselors, who proved that the impossible could be achieved.
The group, known as MindDrive, revolutionized the way people perceive electric cars and social media by traveling more than a thousand kilometers from Kansas City to Washington DC on a trip fueled by social media interaction.
Say what?
MindDrive fully restored a 1967 Karmann Ghia from the ground up and converted its engine and transmission to become an electric car. This is where the restoration took a different turn as the teens reconfigured the battery to run on juice provided by social media interactions.
Each social interaction is converted to wattage: a like on Facebook amounts to one watt; shares, retweets, or mentions of any kind is converted to three watts; Twitter follows equates to five watts; and signing an online petition equals to 10 watts. With this conversion in place, the teens made their way to Washington, DC among very vocal and enthusiastic supporters.
One of the supporters is the famed Sir Richard Branson, founder of Virgin Group. Sir Branson praised the team and mentioned how social media is increasingly becoming a way to unite people behind good causes.
A cause worth fighting for
MindDrive pursued the project with the goal of empowering education by raising awareness for experiential education programs. MindDrive is an afterschool program for at-risk kids who are taught about the environment, math, science, and technology through hands-on experience.
Linda Buchner, MindDrive President, talked about how the group was unsure of the public s reaction and decided to test the premise with the Kansas-to-Washington drive. Fortunately for them, the project received more than enough power to go to Washington and back with 225,000 watts sitting on their power bank before they even left Kansas City.
While the group s test drive proved to be effective, it is worth pointing out that the experience taught the public a more important lesson. Aside from raising awareness on education, MindDrive also emphasized the power of social media interactions. Imagine, with a single comment, tweet, or like, you could actually help a worthy cause.
Check out the MindDrive video here .
Photo credit: MindDrive.org