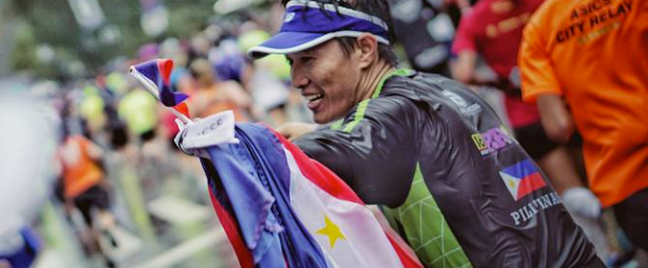 NEW YORK CITY, US—Amidst the cloudy skies and the chilly autumn weather, four of the Philippine call center Open Access BPO's representatives crossed the finish line alongside the 50,766 finishers of the prestigious TCS New York City Marathon 2017 last November 6.
Leo Penas, Ma. Leonisa Cantos, Lizelle Barbosa and Ezekiel Narcelles trekked 42 kilometers of asphalt and pavement as part of the collaboration between Open Access BPO and cause-driven nonprofit Ryan's Run, an official Silver Charity Partner of the 2017 NYC Marathon.
Back in early September, Open Access BPO renewed their partnership with Ryan's Run through a $30,000 donation to the charity, which allowed the four runners to tap into their passion for running and participate in an important cause.
Bracing through the cold of New York City's five boroughs, Penas, Cantos, Barbosa, and Narcelles had finished the marathon at 3:32:07, 5:15:11, 5:22:54, and 6:48:41 respectively.
Ryan's Run seeks to spread awareness and help nonprofit healthcare system Allied Services to improve the lives of people with disabilities, life-changing injuries, and chronic illnesses.

About Open Access BPO
Since its inception in 2006, Open Access BPO evolved from primarily offering telemarketing services into an all-encompassing offshoring solutions firm specializing in multilingual customer service and content moderation solutions.
Today, the American company extends its expertise to both growing enterprises and established international brands from its offices in Makati City, Philippines, and Taipei, Taiwan. Its more than 800 employees concentrate on providing a wide range of outsourcing solutions, including multilingual customer support options.
Gaining momentum as a frontrunner in multilingual solutions, Open Access BPO dedicates itself to providing premium solutions to its partners, allowing them to focus on their core competencies. It also publishes white papers and case studies that tackle various aspects of outsourcing to aid business owners in understanding the larger offshoring industry.