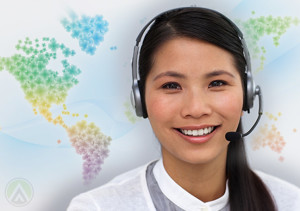 The Philippines has proven its global competence when it toppled India as the world's call center destination in 2011. Today, the country aims higher as it targets multilingual call center services as one of its future niches.
Multilingual agents in the Philippines
There have already been numerous articles expounding the English fluency of the country's population, and not to mention the ability of local call center agents to use neutral accent–a trait highly desirable for businesses aiming to outsource their customer service and other call center operations. These advantages helped the country get a stronghold on voice-based services.
Today, call center companies are moving beyond this comfort zone to take hold of multilingual services. These are offered to businesses catering to non-English-speaking populations, such as the US, Europe, and Asia.
These companies are building on the natural language capabilities of Filipinos, who have been speaking at least two or three languages since birth. An example would be the country's Board of Investment's partnership with global technology company IBM to implement programs to help business process outsourcing (BPO) personnel build their language capabilities outside English.
Moreover, there are various training centers in the country that provide verbal and non-verbal multilingual-language trainings, and help their graduates snag a job in the BPO industry. These commercial or educational centers have appeal to aspiring candidates, since multilingual agents typically earn more than the regular English-speaking call center agent.
Lastly, multilingual companies also employ a significant number of expats and other foreign nationals in the Philippines who speak the native tongue of their clients' customers. For instance, the country holds the largest Korean diaspora in Southeast Asia, ranked as the eighth largest globally. Hiring native speakers is an effective strategy as they are already familiar with the language and culture of businesses' clientele.
The Philippines is investing further in the call center industry. Currently there are programs and training centers geared toward building a local BPO workforce for multilingual accounts. Additionally, call centers are taking advantage of the prevalence of expats and immigrants to attract businesses abroad with non-English-speaking customers.