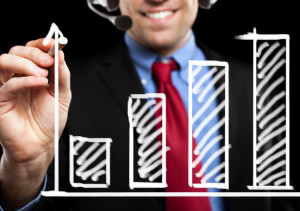 Outsourcing telemarketing in the Philippines has become a common, profitable practice among businesses in the US. It enables a company to save on employee and operational expenses while expanding its customer base and improving its sales efforts.
Telemarketing's profitability
Telemarketing is the process of directly promoting products or services over the phone to potential customers.
In essence, it is a valuable tool for generating and nurturing leads. Telemarketers gather basic customer details, they contact and ask these customers directly about their needs, and then provide information that they deem relevant and helpful based on the acquired data. By doing so, telemarketers can convert prospects into actual sales and help boost the company's revenues in the long run.
Moreover, it's also a way of gathering marketing information. Telemarketers ask research questions from customers, and this data can be added to the customer database and used to improve other sales and marketing initiatives.
Marketing advantages of telemarketing in the Philippines
Despite the emergence of new communication channels, such as email and social media, telemarketing remains effective even today. In fact, in the US, revenues from this industry is projected to hit $15.2 billion in 2015.
The effectiveness of telemarketing can be attributed to several factors. First, the approach to communication is personalized per customer. This is in contrast to other channels where a single message may be delivered to a hundred people or more.
Moreover, it entails real-time conversations so both parties can easily understand each other. It takes only a few minutes for the telemarketer to establish rapport and achieve the purpose of the call. In comparison, email and social media marketers may take hours and even days to achieve this feat.
Finally, telemarketing efforts are easily measurable. Each call has a defined purpose, so there is no difficulty in identifying and setting clear metrics.
Outsourcing telemarketing in the Philippines
Telemarketing can be done in-house or at home, but many choose to outsource this business process in the Philippines.
Like other call center solutions, outsourcing your telemarketing needs to the Philippines offers cost savings. The offshore company takes full responsibilities in shouldering the expenses related to recruitment and training, as well as maintenance of the call center.
Telemarketing can also improve the quality of campaigns, since the client company gains the assistance of Filipino telemarketers who have good English-language skills, customer-friendly attitude, and experience.
Outsourcing companies in the Philippines offer a diverse array of sales and marketing services. The most common ones include appointment setting, lead generation, and lead qualification, among others. In general, these services are geared towards helping companies achieve improved bottom line.