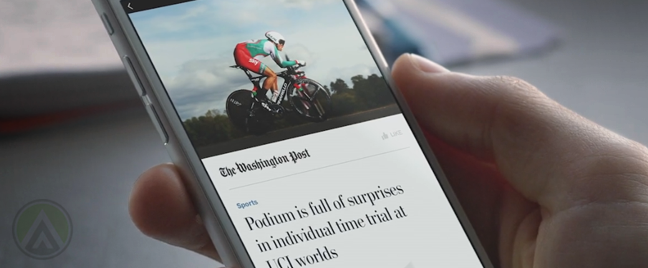 Facebook kickstarted the F8 global developer's conference at San Francisco with lots of good news.
You can now start creating instant, immersive content for your followers on Facebook!
This is one of Facebook s great announcements at the F8 global developer s conference currently being held in San Francisco. As previously promised, the massive social media site officially launched Instant Articles to all publishers of all types and sizes, in all parts of the world. Those interested can start signing up right now by visiting this link.
With this feature, brands gain the opportunity to constantly position themselves right in front of the customer in a much more immersive way. It works by opening a reader-friendly page within Facebook when a user clicks on a piece of content. The faster loading time, compared with that in external websites, leads to higher reader engagement and, therefore, better content marketing.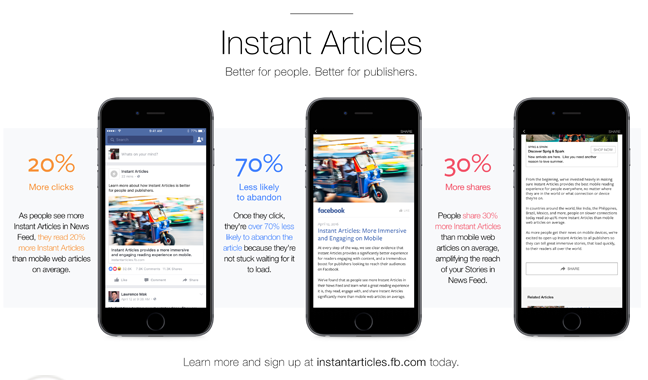 Facebook has partnered with open source platforms, analytics providers, and third party developers to make the content creation process seamless. This way, publishers not only create articles but they can also manage and monitor their individual performance. As announced, here are the partners and tools of Instant Articles:
•     Publishing tools:   WordPress, Drupal, Atavist, Medium, Perk Distributed, RebelMouse, ShareThis, Sovrn, Steller, Tempest
•     Analytics tools:   Adobe Analytics, Chartbeat, comScore, Nielsen, Parsely, SimpleReach
According to Josh Roberts, Product Manager at Facebook, users' responses to this publishing tool have been favorable. Their tests revealed that users read 20% more in-app articles than external ones and they re 70% less likely to abandon the content, thanks to the fast loading times.
One of the most talked-about social media tools, this instant publishing feature has various applications in online customer service, including tech support, and digital marketing. Here s how brands can use them to boost their presence and engage their target audience.
For customer service
Brands can use Instant Articles to disseminate FAQ sheets, simple product manuals, and other informational materials that customers may need. This is beneficial for brands in two ways. First, it promotes self-service among customers who prefer to solve their issues first before reaching out to a call center agent. Second, social media managers can easily point customers to these resources using only links, which speeds up customer support. This allows frontline employees to reserve other customer service channels for more complex issues that require their hands-on involvement.
For social media marketing
Aside from delivering online customer service, in-app publishing is also a powerful digital marketing platform. True enough, there is a plethora of social media tools that brands can use, but Facebook remains one of the most popular websites both for advertisers and the general population.
Instant Articles would allow enterprises to create branded content that resonates well with the customer. It can be used to introduce new products and their features, use interactive elements for brand storytelling, and engage customers in meaningful conversations. Its best advantage, perhaps, is that it allows brands to do plenty in just one place, making everything much easier to manage.