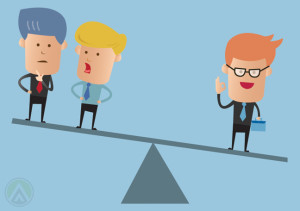 To establish themselves and thrive in a challenging industry, small businesses need to focus on their core offerings, and not spend too many resources on back office operations. This is why most small businesses are opting to outsource to offshore service providers.
While outsourcing may have numerous benefits, it also has drawbacks. Here's a short comparison between the two.
Benefits
Outsourcing helps lessen the burden of carrying out administrative tasks. These include vital yet time consuming processes related to human resources, payroll and accounting, data entry, and IT management, among many others. As such, small businesses can simply delegate these tasks to offshore professionals instead of assigning them to in-house employees.
Companies can also take advantage of the cost savings that comes with outsourcing their back office needs. At a mere fraction of the cost of keeping an in-house department, small businesses can avail of a team of highly trained back office outsourcing experts to boost operations without compromising quality. Thus, cost efficiency is definitely a critical factor that will significantly benefit small businesses, enterprises, and startups with limited resources.
With a reliable team of outsourced experts handling back office processes, companies can concentrate on other critical aspects of the business. For instance, tasks being handled in-house can be streamlined to make operations more efficient and errors can easily be prevented. These can improve customer satisfaction, an essential component in the growth of small businesses.
Outsourcing also enables small businesses to focus on activities directly associated in generating revenue and enhancing customer relations. Such is the case of the Middle Tennessee Pharmacy Services. The pharmaceutical company decided to engage in back office outsourcing and focus on customers. From five employees, they have since grown to larger business, employing 90 in-house staff in three different locations.
Lastly, offshore providers can provide expert advice on improving processes, since they have prior experience in similar services.
Drawbacks
While outsourcing does offer several benefits, there are also risks that come with it. A majority of these potential pitfalls deal with data security and confidentiality— common fears tied to the idea that people outside the company and from an overseas location have access to sensitive information about the business and its customers. These are ordinarily issues in processes like human resources, payroll processing, and accounting, among others.
In relation to this, small businesses may also be apprehensive in engaging in back office outsourcing for fear that they might receive low quality services from their offshore providers. This is one concern that budding businesses are quick to point out, given their need to immediately resonate positively among their demographic. Obviously, subpar outputs can negatively affect the company's operations, revenue, and overall brand reputation.
Moreover, some companies may feel like they're too small to outsource, whether it's to address their tech support or back office needs. Some offshore providers, meanwhile, simply do not have solutions customized for the needs of small businesses.
In general, outsourcing offers many benefits which small businesses, enterprises, and startups can take advantage of in order to grow despite their limited resources. Though this strategy comes with risks, these can readily be overcome by carefully selecting the right offshore service providers.