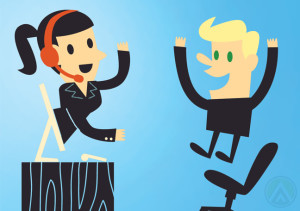 Nearly three years after unseating India as the top outsourcing location, the Philippines' call center industry remains progressive and it doesn't look like it has any intentions of slowing down any time soon.
In recent reports for the upcoming International Contact Center Conference & Expo (ICCCE), Contact Center Association of the Philippines (CCAP) President Benedict Hernandez said that the local contact center is still the largest in the world and remains the premium hub for customer relations management.
As a late-comer in the outsourcing industry, the Philippines served a few years as a mere second-stringer to the already top-billing India. It was only a matter of time, however, until the US and other Western countries began to notice the inherent benefits of choosing the Southeast Asian country as their outsourcing destination.
This opportunity provided a much needed boost to companies in the Philippines' call center industry to show the world's business sectors what it's truly capable of. Even after dethroning India as the business process outsourcing (BPO) top seed, companies around the world continue to choose the Philippines over India. This outsourcing migration can be attributed to the Filipino workers having shown that they have the talent, diligence, and the skills needed to meet and exceed the demands of today's global business needs.
During this period, it was reported that revenues grew by 18%, earning $8.7 billion for the industry and 81,000 new jobs for the Filipinos workforce.
The aforementioned 9th annual ICCCE is set to take place at the end of August in one of the biggest call center-centric locales of the country, Cebu. The three-day conference will bring together BPO service providers, outsourcing firms, and vendors in voice-based call center solutions from all over the world to talk about issues, innovations, and best practices in the industry.
During the event, Hernandez will also present a "State of the Industry Report" to provide updates on the trending technologies in the industry, and the recent growth in revenue, and employment.
"ICCCE will serve as a venue where the industry could focus on various concerns; support, optimize, and learn from each other; and ultimately show the stakeholders that the contact center is a booming industry ran by people who are doing very well and are serious about it." said Raffy David, CCAP director and chair of the ICCCE 2013.
At present, call centers take up the majority of BPO operations in the country, followed by IT-based services, healthcare information management, and back office solutions, among many others. Not one to rest on its laurels, the BPO industry in the Philippines is still undergoing a massive growth towards becoming more competitive in the global business arena. The upcoming 9th International Contact Center Conference & Expo will re-iterate that fact and aims to bring in more big players and investors to the Philippines' call center industry.