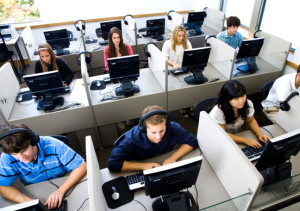 Oftentimes, outsourcing call center companies go to great lengths to ensure that they can deliver results to impress their clients. They make sure that customers are well taken care of and are happy with the service they receive. An effective strategy to achieve this, however, is not that at all complicated: keep your employees happy.
Simply put, happy call center agents equal happy customers. So it's important to create and maintain a positive work environment that can inspire them to perform their best.
Workplace
The office should be fun, interactive, and conducive to productivity. It should be a place where agents can see themselves working eight hours every day. As such, chairs and desks should feature ergonomic design for comfort, while the overall space layout should be one that reduces noise disturbances and optimizes hearing conditions. These can help ensure agents can focus on and clearly communicate with the customers.
Employees will also appreciate areas dedicated to eating and relaxation, as well as a sleeping quarters or quiet room for those who need to rest or lie down.
Essential technologies
The outsourcing call center firm should supply the fundamental technologies, such as automatic dialers, needed by agents for their work. It should also invest in state-of-the-art equipment that can facilitate processes and help the agents do their jobs more effectively.
Acknowledgment
Like all employees across every industry, call center agents appreciate it when their superiors recognize their hard work. Know when to pat them for a job well done. Show simple efforts such as occasional free lunches or implement incentive schemes that can motivate them, whichever is deemed suitable.
These are the main elements needed for a positive working environment. These help in keeping agents satisfied under the outsourcing call center company, which in turn contributes to good performance and augment employee retention.