The rise of global business and international markets has opened up a world of opportunities, but it has also brought forth a unique set of challenges—concerns that multilingual call centers are equipped to resolve.
One such challenge is the language barrier, which can hinder effective communication and negatively impact customer experience.
A brand that can bridge cultural and linguistic gaps is strategically positioned for success.
Any organization can reach its target market despite time and geographic differences using various tech tools. Speaking your customers' language, however, is what would truly differentiate your brand in a crowded marketplace.
This is where multilingual call centers step in, offering a vital solution for industries dealing with diverse customer bases.
So, if you're looking for ways to enhance your competitive edge, consider implementing a multilingual strategy. Multilingual proficiency is a valuable resource for businesses aiming to serve or expand their reach among diverse consumer segments. Effective communication with a global audience can boost brand recognition, elevate customer service standards, and establish a robust global presence.
Must All Brands Be Multilingual?
Brands of all sizes can discover significant advantages in embracing multilingualism. Even if your primary focus is not on capturing international markets and your operations are confined to a single country, it is highly likely that various languages are spoken within your local area.
Nevertheless, certain industries have a more pronounced requirement for multilingual capabilities than others. This is particularly true for tech-oriented companies heavily engaged in online operations or those naturally catering to a diverse clientele.
Here, we outline the top five industries that stand to benefit from outsourcing to a multilingual call center.
Benefits of Outsourcing Multilingual Call Centers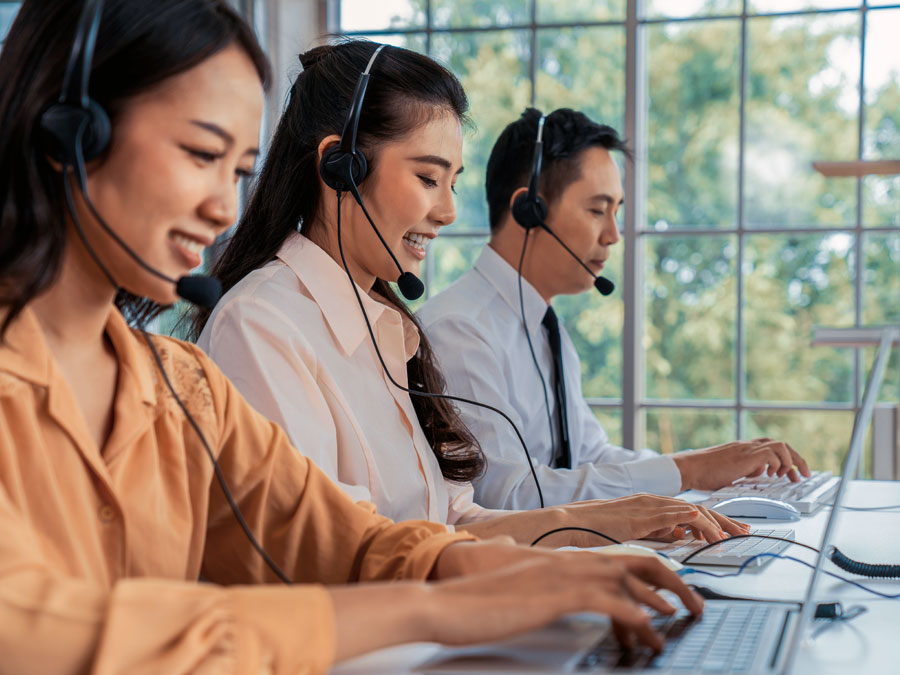 Outsourcing to a multilingual call center emerges as a strategic choice for businesses across diverse industries, each with its unique set of demands and customer bases. The advantages are multifaceted, transcending borders and barriers.
Economical Solutions for Varied Industries

Cost-effectiveness reigns supreme in the realm of outsourcing multilingual call centers. For businesses navigating the complexities of the modern marketplace, particularly in sectors like ecommerce, healthcare, finance, tourism, and travel, the financial benefits of outsourcing are undeniable.

By opting for outsourced call center solutions, these industries can allocate resources more efficiently, channeling their financial prowess where it truly matters, without compromising the quality of customer service. This pragmatic approach paves the way for global business expansion while maintaining cost-efficient operations.

Unlocking a Multilingual Arsenal

One of the pivotal advantages of outsourcing lies in the access to a treasure trove of language experts. In the competitive arena of customer service, communication is the foundation of success. Industries like ecommerce and healthcare, catering to a diverse clientele, understand that breaking the language barrier is essential.

Outsourcing ensures that businesses can tap into a pool of trained professionals who possess fluency not only in mainstream languages but also in lesser-known dialects. These linguistic experts navigate the intricacies of communication with ease, ensuring that each customer interaction is a seamless and satisfying experience.

Round-the-Clock Global Customer Support

The clock never stops ticking in the international markets, and businesses must follow suit. Multilingual call centers embrace the challenge of providing 24/7 customer support. This attribute is a godsend for industries like tourism and travel, where travelers embark on journeys at all hours.

By spanning the globe across different time zones, these call centers stand ready to assist, guide, and resolve issues, regardless of the hour, ensuring that customers' needs are met promptly and efficiently.

Agility in the Face of Fluctuating Demands

Scalability and flexibility are the hallmarks of outsourced multilingual call centers. In sectors such as finance and banking, where the landscape is marked by fluctuating demands and seasonal surges, agility is paramount.

Outsourced call centers can seamlessly adjust their operations to match the ebb and flow of customer inquiries, ensuring that service quality remains unwavering. This adaptability empowers businesses to ride the waves of market dynamics without succumbing to operational bottlenecks.
Regardless of industry, effective customer service remains essential, and language should never be a barrier. The top five industries we've explored – ecommerce, healthcare, finance, tourism, and travel – all benefit significantly from the services of a multilingual call center.
By addressing the challenges posed by language barriers, industries can not only meet customer expectations but also achieve significant business growth. When customers feel understood and valued, it leads to enhanced satisfaction, loyalty, and ultimately, success in the global marketplace.
Does your business belong to any of these industries? Or perhaps your brand interacts with people from various cultures? Either way, outsourcing to a multilingual call center is your best bet in making and maintaining a large consumer base.
Open Access BPO is here to help with that. Our multichannel approach to customer experience is delivered by trained multilingual experts, making your brand stand out no matter where your market is. Don't hesitate to contact us today if you want to learn more.